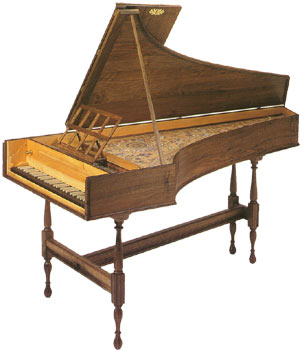 Thomas Barton was a well-established harpsichord and spinet maker in London, having been apprenticed to Stephen Keene. About eight of his spinets are extant, but only one harpsichord, which belongs to the Mirrey Collection in the University of Edinburgh. It was discovered in 1969, after lying undisturbed in a hayloft for a very long period; extensive repairs were carried out by Malcolm Rose in 1993-5 to rectify the effects of years of damp.

The design of this instrument belongs entirely to the 17th-century English tradition; it is conceived in the Italian mould, like the 17th-century instruments of France and Germany. The casework is lightly built and braced; the soundboard is flexibly barred under the bridge. The key cheeks are scrolled, and the inner lining in yew, contrasting with the walnut, is suggestive of the Italian inner-outer construction.The sound is surprisingly powerful, with a very crisp attack, but with a long sustain quite unlike an Italian harpsichord.
CASE

tail, bentside and shortside of walnut; spine of pine; lid of solid walnut with a moulding on the underside. The case is lined above the soundboard with yew.

SOUNDBOARD

of spruce. Bridge and nut of pear. Original scaling 287.5mm.

KEYS

of pine; naturals of ebony with patterned arcade in black varnished paper. Skunktail sharps in ebony and bone.

JACKS

of pear and holly with bristle springs.

FINISH

wax polish.

DISPOSITION

two registers at 8'.

PITCH

a' = 415Hz, with optional transposing device to A440. A pitch of a' = 392 with transposition to A415 is also possible.

COMPASS

originally GG/BB broken octave to d'''; copies can also be made chromatic from GG with a small enlargement to the case, as shown below. Instruments with a broken octave can be transposed.

DIMENSIONS

| | | |
| --- | --- | --- |
| | ORIGINAL | EXTENDED |
| length: | 196cm (77'') | 196cm (77'') |
| width: | 84.5cm (33'') | 87cm (34'') |
| height: | 20.5cm (8'') | 20.5cm (8'') |

STANDS

the original stand is missing from the instrument. The stand shown is typical of the English manner, being based on examples by Hitchcock.