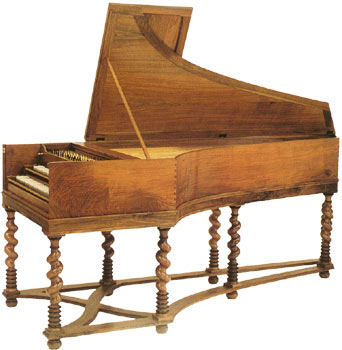 This instrument, in the Museum of Fine Arts, Boston, is clearly dated on the underside of the soundboard, but is unsigned. It is among the earliest 17th century French harpsichords to have survived.
It was almost certainly made in Paris, as its soundboard decoration is by the same painter as the decoration of other harpsichords which are known to be Parisian. It has all the characteristic, often Italianate, features of this period, but differs in being brass-scaled throughout. A detailed description of the instrument can be found in John Koster: Keyboard Musical Instruments in the Boston Museum of Fine Arts (Museum of Fine Arts 1994)
CASE

tail, bentside and shortside of solid walnut; spine of pine; lid of frame and panel construction in solid walnut.

SOUNDBOARD

of spruce. Bridges and nuts of pear; original scaling 270mm (8'), 130mm (4').

ROSE

of parchment.

KEYS

of basswood; naturals of ebony with carved arcading; sharps of solid bone.

JACKS

of pear and holly with bristle springs.

FINISH

wax polish. Alternatively, the instrument can be painted
and gilded.

DISPOSITION

two registers at 8', one at 4'; shift coupler

PITCH

A415, transposing to A440. An alternative stringing for A392/415 is also possible.

COMPASS

originally GG/BB short octave to c'''. We mostly make instruments with an extended compass: GG/BB broken octave (giving GG-AA-BB and chromatic from C) up to d'''. Our instruments with a broken octave can be transposed.

DIMENSIONS

| | |
| --- | --- |
| ORIGINAL | EXTENDED |
| length 2165mm (85.25") | 2165mm (85.25") |
| width 760mm ( 29.8") | 786mm (30.8") |
| height 259mm (10.25") | 259mm (10.25") |

STANDS

the illustration shows the elaborate French Baroque stand typical of this period, particularly associated with the maker Vincent Tibaut. The trestle stand shown with the Nicolas Dufour harpsichord is also available as a simpler alternative.